Leading Manchester employment lawyers, Martin & Co, are  one of only a few solicitors to practice exclusively in employment law. Being specialist employment solicitors, allows us to be  at the cutting edge of developments in this complex area of the law and to provide our  services at rates which the more traditional Manchester law firms cannot compete with.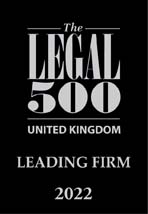 As Manchester's first employment solicitors, we have been advising both employees and employers on all aspects of employment law since 1999, and no other firm of employment solicitors in Manchester or the north west has our track record when it comes to getting results in all aspects of employment law, whether it is a settlement agreement, a claim for unfair dismissal, a discrimination claim, a redundancy or a disciplinary matter.
The firm has been independently recognised by the Legal 500 directory as one of Manchester's and the north west's leading employment solicitors for over 20 years, which is something none of our competitors can claim. In 2017 the Legal 500 rated our service as "superb" and our team as "top class", while in 2018 they said our team "attracts praise for its professional service and clear, prompt advice". In 2019 the Legal 500 said that our service to employers was "seamless – it is almost as if the service was provided in house". In 2020 the Legal 500 said that clients rated our service as "second to none" and that they valued the "high quality advice" received. In 2021, the Legal 500 described our "customer service and client relationships as exceptional".
The majority of our client's say that they would recommend us, and you can  view the glowing testimonials on this site and the many five star reviews on Google.
We have a team of employment lawyers, who all specialise exclusively in employment law.  John Martin has been a specialist employment solicitor for over 25 years and is rated by the Legal 500 as one of the leading employment lawyers in Manchester and the whole of the North West.
Unlike some of our competitors, we do not employ unqualified people. All of our advisers are qualified employment solicitors, as we are committed to providing the highest quality employment law advice.
If you have an employment  issue, it is vital that you seek advice without delay from a specialist employment lawyer. This need not cost the earth. In many cases we offer a one hour first consultation for £195 plus VAT.
Please call to discuss your issue. Often the first call will be with John Martin, as he likes to be the first point of contact with a new client. » Read more about us